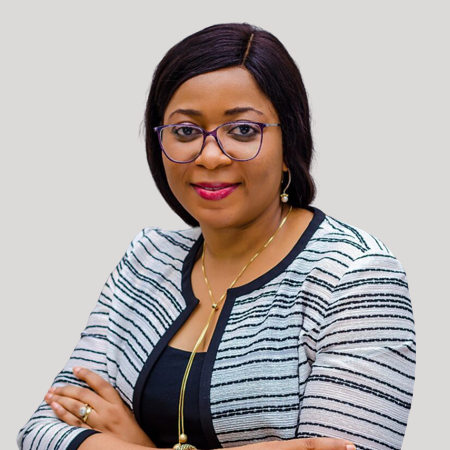 Chioma Mordi
CEO
Chioma Mordi is the Chief Executive Officer of the Society for Corporate Governance Nigeria. ("Society"). Chioma has years of exceptional operations, strategy, and research experience with key focus on corporate governance. She oversees the day-to-day duties of the Society, where she contributes to the strategic plan and drive its implementation as well as undertaking, generalmanagement duties and ensuring the successful operations of the organization
Prior to this, she was the Chief Operating Officer, where she oversaw the Society's operations and responsible for the efficiency of the Society; she designed and implemented strategies for the development of the Society and sets comprehensive goals for performance and growth. Leading employees and encouraging maximum performance and dedication as well as corrective practices, to align the employees with the organisation's goals.
She was also General Manager, Resource Development, providing leadership and management in the business and primarily responsible for the development of intellectual resource materials. She was also Head of Research and Publications for the Society. Chioma has direct oversight of the Society's research work namely "the Directors Handbook on Corporate Governance – editions 1 and 2; Company Secretaries Guide on Corporate Governance editions 1 and 2; Corporate Governance and Sustainability Reporting in Nigeria – a review of the top 30 capitalized companies on the Nigerian Exchange" the Nigerian Observatory on Corporate Governance in publicly quoted companies on the Nigerian Exchange". She was the Editor-in-Chief of Journal of Corporate Governance (a bi-annual publication of the Society for Corporate Governance) and C- Governance Newsletter (weekly Newsletter of the Society). Mrs. Mordi has brought in skill and experience that have moved the Society to an organization of national and international repute through collaborations with key institutions, like AFOS Foundation for Entrepreneurial Development co-operation (a corporation existing under the laws of the federal Republic of Germany), Central Bank of Nigeria (CBN), Nigeria Deposit Insurance Corporation (NDIC) and other regulatory agencies in different sectors of the economy. In addition, she regularly engages chief executives, chairmen and directors of blue-chip companies and regulators in different fora including breakfast meetings, seminars, and conferences for the promotion of corporate governance in Nigeria.
Mrs. Mordi is a graduate of Social Statistics from Obafemi Awolowo University, Ile-Ife; and has attended different management courses in some of the country's prestigious institutions. She leads the Corporate Governance Working Group of the Microfinance Banks Platform, and She is a Member of the Women in Management and Business (WimBiz), Nigerian Institute of Management and Alumnus of Lagos Business School (LBS).