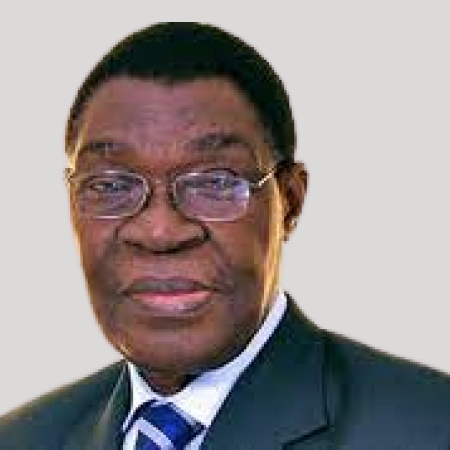 Elder Felix Ohiwerei, OFR
Fellow
Felix Omoikhoje Aizobeoje Ohiwerei, who hails from Uzebba in Owan Local Government of Edo State, was born on the 18th of January 1937. He attended St. David's School, Avbiosi New Site; Government School, Owerri; Government Secondary School, Owerri; Nigerian College of Arts, Science and Technology, Ibadan and University College, Ibadan (now the University of Ibadan).
On graduation from the University College Ibadan in June 1961, Mr. Ohiwerei taught for nine months before joining Nigerian Breweries in April 1962 as Manager-In-Training. Shortly afterward, he was promoted to the position of Field Sales Manager and in that capacity, he served in the West and Mid-West and returned to Lagos in 1965 as Promotions Manager. In 1966 he was sent on attachment to Elida Gibbs (a Unilever Company in the UK). He returned to Lagos eighteen months later to assume the position of Star Product Manager. Before becoming Marketing Manager in 1974, Mr. Ohiwerei held the positions of Lager Product Group Manager and General Brands Manager.
He was appointed to the Board of NB Plc in 1977 as Marketing Director, and in 1982 was seconded to UAC Foods Division as General Manager. In June 1986, he went to UAC International, London (a Unilever Company) as a Senior Manager in Nominated African Territories Regional Management. Mr. Ohiwerei was appointed Deputy Chairman/Managing Director of Nigerian Breweries Plc in 1987, became Chairman/Managing Director in June 1989, and Chairman/Chief Executive Officer of the company in 1997. He retired from the service of Nigerian Breweries in June 1999 and was appointed Non-Executive Chairman of the company in July 1999 and retired from the Board in December 2007. He was also Chairman Unilever Nigeria Plc from January 1998 to December 2007. He was also a Director of Shell Closed Pension Fund Administrator until April 2009.
He is Chairman, Coates Brothers (West Africa) Limited, Jubilee Life Mortgage Bank, Asset & Resource Management Company Ltd, Bankers Warehouse Limited, e-Tranzact International Limited, World Dove Media Plc; Chairman, Friendship Bible Fellowship, National Director, Full Gospel Businessmen Fellowship International, Chairman, Ashford & McGuire, and Fidson Healthcare Limited. He was a Member, Heineken Africa Advisory Council; Member, Pro-Chancellor/Chairman of Council, University of Ibadan – 2000/2004. In December 2003 he was appointed Chairman, Governing Council of Nigerian Investment Promotion Commission for a period of four years. He is also been Chairman of, Board of Trustees of Redeemer's University for seven years. Mr. Ohiwerei is a Fellow, Nigerian Marketing Association; Fellow, Geography Society of Nigeria; Fellow, Institute of Directors; Fellow, Advertising Practitioners Council of Nigeria. He holds an Honorary Doctor of Laws Degree (LL.D) from the University of Ibadan. He is also a recipient of the Zik's Prize in Leadership Award, the Order of Orange Nassau by the Queen of the Netherlands, and Officer of the Federal Republic of Nigeria (OFR).