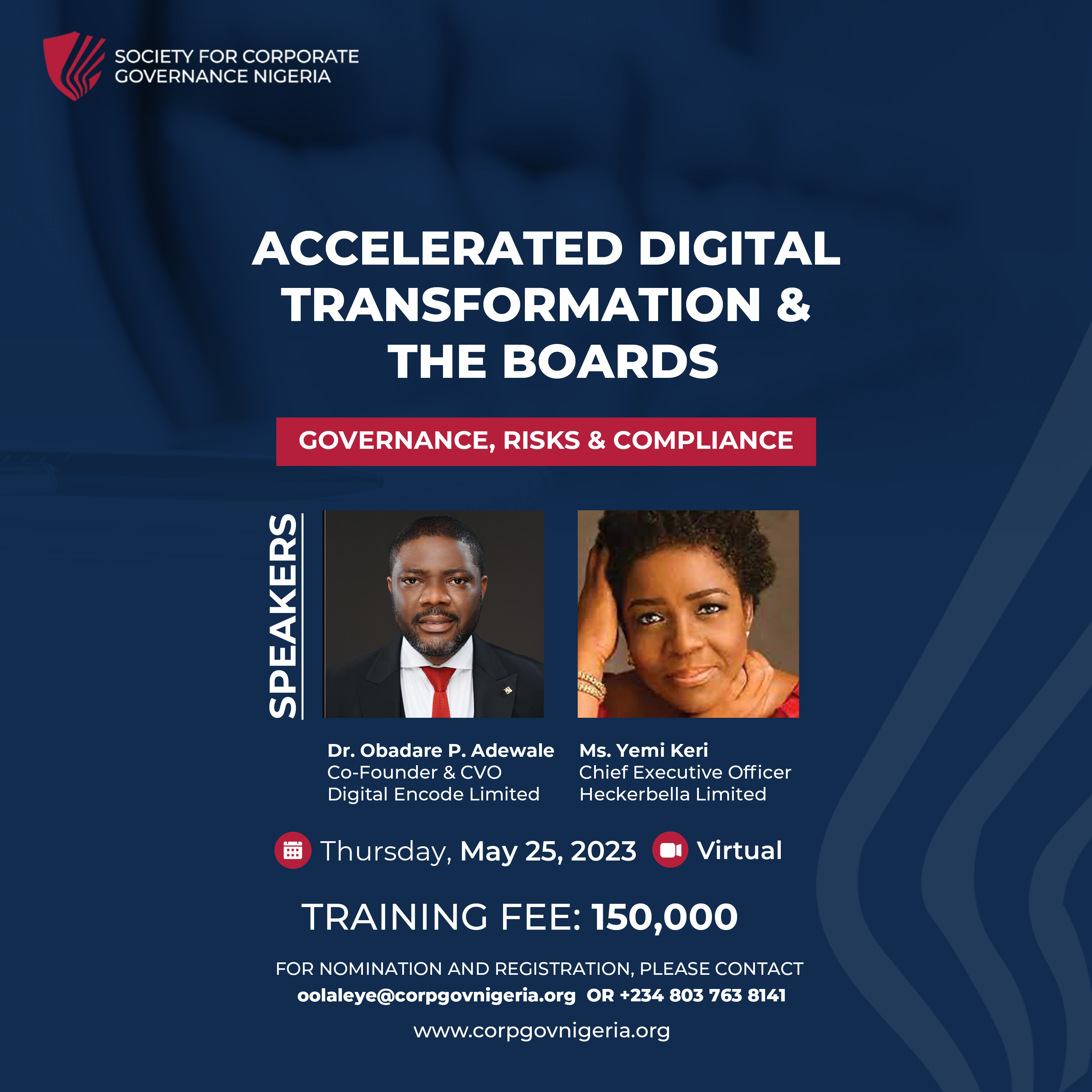 ACCELERATED DIGITAL TRANSFORMATION AND THE BOARD: GOVERNANCE, RISKS, AND COMPLIANCE
2436
2436 people viewed this event.
Overview
The course on Accelerated Digital Transformation and the Board: Governance, Risks and Compliance is designed to help board members understand the role of digital transformation in shaping the future of their organizations. The course will cover the key concepts of digital transformation, its impact on governance, risks and compliance, and the strategies that boards can adopt to manage digital transformation effectively. The course will also focus on the importance of developing a digital strategy and building a culture of digital transformation within the organization.
Course Outline:
Module 1: Introduction to Digital Transformation
• Digital Transformation and its importance on Corporate Governance
• Drivers and implementations of digital transformation
• Implications of Digital Transformation for boards
Module 2: Governance in the Digital Age
• The changing role of the board in digital transformation
• Digital governance frameworks and best practices
• Board oversight of technology risks
Module 3: Managing Risks in the Digital World
• Cybersecurity risks and challenges
• Data protection and privacy considerations
• Compliance with regulatory requirements
Module 4: Developing a Digital Strategy
• The importance of a digital strategy
• Key elements of a digital strategy
• Aligning the digital strategy with the overall business strategy
Module 5: Building a Culture of Digital Transformation
• The role of leadership in fostering a culture of digital transformation
• Strategies for engaging employees in digital transformation
• Overcoming resistance to change
Module 6: Conclusion and Next Steps
• Key takeaways from the course
• Action planning for effective digital transformation
• Future trends in digital transformation and board governance
This course will be beneficial for board members, executives, and senior leaders who are responsible for driving digital transformation in their organizations. By the end of the course, participants will have a clear understanding of the challenges and opportunities of digital transformation, and the strategies required to manage risks and achieve successful outcomes.
Date – Thursday, 25th May 2023
Time – 10:00 AM
Venue – Virtual
Training Fee: NGN 150,000