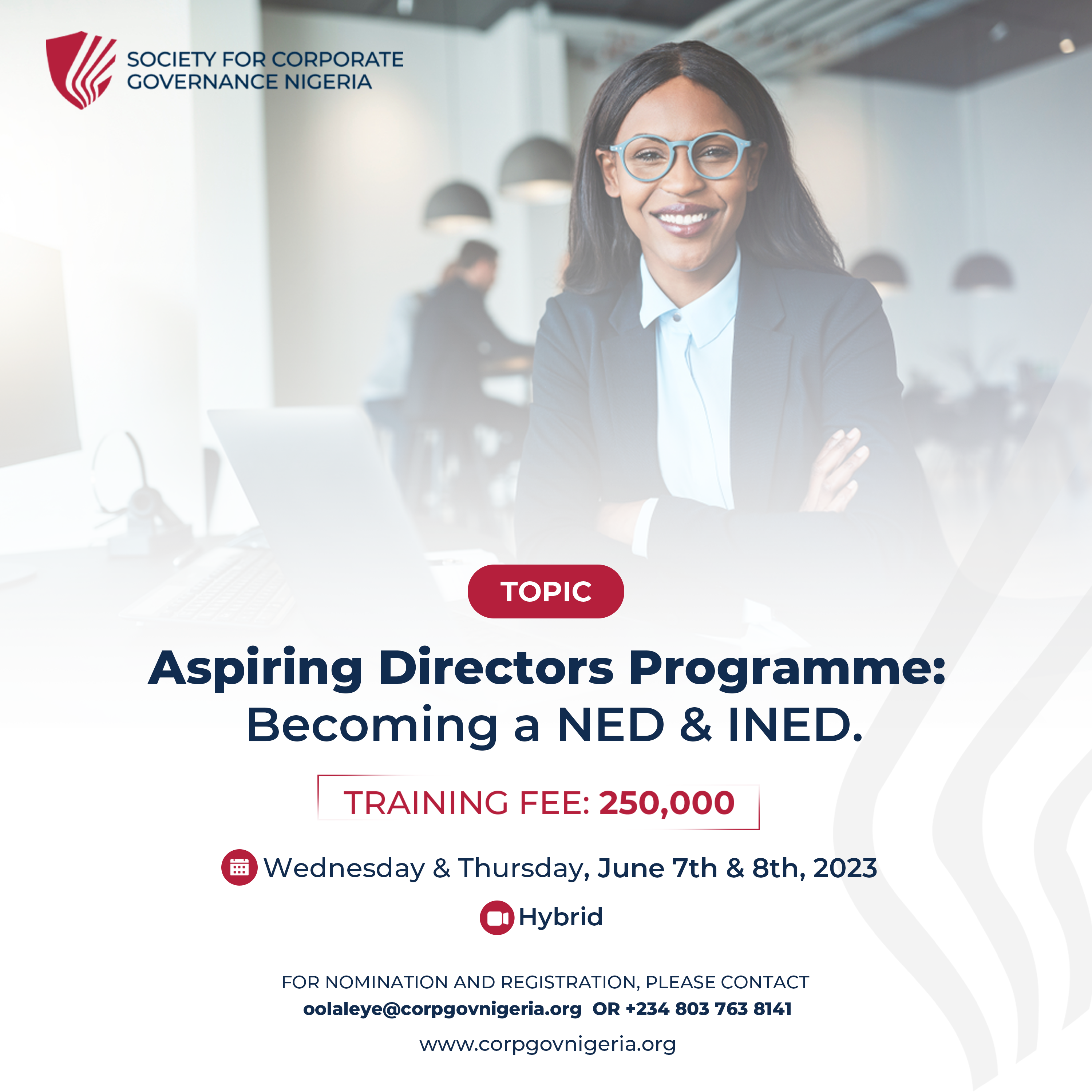 Aspiring Directors Programme – Becoming a NED & INED
3046
3046 people viewed this event.
Overview
The Aspiring Directors Programme is designed to equip individuals who aspire to become a Non-Executive Director (NED) or Non-Executive Director (INED) with the necessary knowledge and skills to take on this role effectively. The programme typically covers topics such as corporate governance, risk management, financial management, leadership, and boardroom dynamics.
The programme also includes interactive sessions where participants can engage with experienced NEDs and INEDs, gain insights from their experiences, and ask questions about the role and responsibilities of a NED or INED.
Participants will learn about the legal and regulatory framework that governs the role of NEDs or INEDs and the duties and responsibilities that come with the position. They will also learn how to effectively challenge the executive management team, balance the interests of stakeholders, and ensure effective communication with shareholders.
The Aspiring Directors Programme will be delivered through a combination of online learning modules, case studies, and practical exercises. Participants may also be required to complete assignments and assessments to demonstrate their understanding of the topics covered.
Course Outline:
Module 1: Introduction to the Role of NED and INED
Overview of the role and responsibilities of NED and INED
Legal and regulatory framework governing NED and INED
Differences between executive and non-executive roles
Developing the right mindset and approach for the role
Module 2: Corporate Governance
Understanding the principles of good governance
The role of the board in corporate governance
The importance of transparency, accountability and integrity
The role of committees in corporate governance
Module 3: Risk Management
Understanding risk management
Identifying and assessing risks
Developing effective risk management strategies
Risk reporting and monitoring
Module 4: Financial Management
Understanding financial statements and reports
Financial analysis and interpretation
Financial planning and budgeting
Monitoring financial performance
Module 5: Leadership
Leadership styles and approaches
Developing a culture of trust and accountability
Leading by example
Module 6: Boardroom Dynamics
Understanding board dynamics and behaviours
Managing conflicts of interest
Effective communication in the boardroom
Building and maintaining effective teams
Module 7: Becoming a NED and INED
Developing a personal brand and reputation
Finding the right board roles
Interview skills and techniques
Preparing for the role of NED and INED
Module 8: Recent Regulatory Developments Applicable to NEDs and INEDs
Tenure of Executive Management and Non-Executive Directors of Deposit Money Banks.
Disclosures to be made by Directors of Insurance Companies
Induction and Continuing Education for Directors of Insurance Companies
This course will benefit aspiring board members, executives, and senior leaders responsible for decision-making in their organizations. Overall, the Aspiring Directors Programme is a comprehensive training programme that provides participants with the knowledge, skills, and confidence to become effective NEDs or INEDs.
Date – Wednesday & Thursday, 7th and 8th June 2023
Time – 10:00 AM
Venue – Hybrid
Training Fee: NGN 250,000