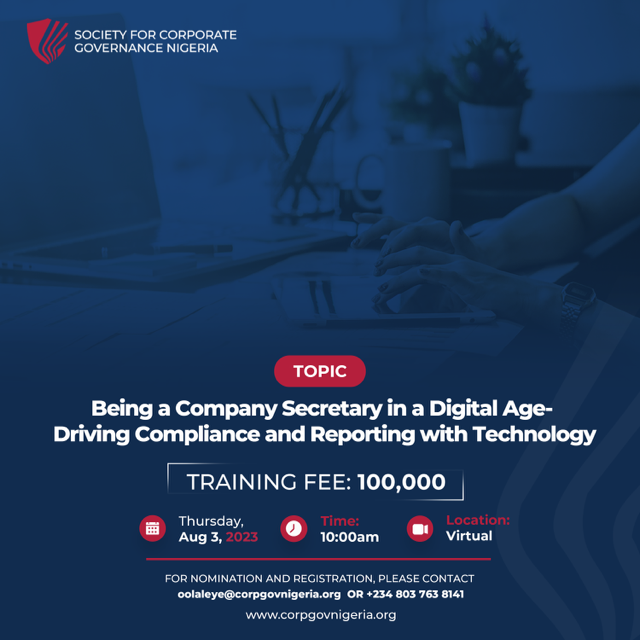 Being a Company Secretary in a Digital Age-Driving Compliance and Reporting with Technology
1298
1298 people viewed this event.
TRAINING OVERVIEW
Introduction
In today's fast-paced business landscape, the role of Company Secretaries has evolved beyond traditional administrative duties. To thrive in the digital era, Company Secretaries must harness the power of technology to drive compliance and reporting excellence. This training program, " Being a Company Secretary in a Digital Age- Driving Compliance and Reporting with Technology," is meticulously designed to equip Company Secretaries with cutting-edge knowledge and hands-on experience in leveraging technology for seamless compliance and accurate reporting.
Outline:
Session 1: Embracing Technology for Enhanced Compliance
A. Understanding the transformative role of technology in corporate governance
B. Technology-Driven Compliance Frameworks
Exploring technology-enabled compliance processes

Integrating technology for real-time risk monitoring and detection

Leveraging automation for streamlined compliance workflows.
C. Cybersecurity and Data Privacy Compliance
Safeguarding sensitive data with technology-driven security measures

Complying with data privacy regulations using technology compliance tools

Mitigating cyber risks and ensuring data integrity
 Session 2: Transforming Reporting Practices with Technology 
A.  Digital-Enhanced Financial Reporting
Advancing financial reporting accuracy with technology-powered analysis

Leveraging AI for predictive insights and forecasting

Creating dynamic and data-rich financial report.
B. Non-Financial Reporting and Sustainability with Technology
Integrating tech for ESG reporting and sustainability tracking

Measuring and reporting non-financial performance with Technology tools

Enhancing transparency and credibility in non-financial disclosures
C. Emerging Technologies in Corporate Governance
Exploring emerging technologies and their impact on governance

Preparing for future challenges and opportunities in the digital era
Join us in this game-changing training to harness the full potential of technology and in corporate governance. Elevate your role as a Company Secretary and become a driving force for compliance and reporting excellence.
Secure your place now! Click the link below to register for the " Being a Company Secretary in a Digital Age- Driving Compliance and Reporting with Technology " training:
Who Should Attend: 
This training is ideal for:
Company Secretaries seeking to enhance their understanding of compliance and reporting obligations.

Board members interested in strengthening corporate governance practices.

Executives and senior management involved in decision-making processes.
Benefits of the Training: By participating in this training program, attendees will:
Gain a comprehensive understanding of the Company Secretary's role in driving compliance and reporting in digital age.

Learn best practices to establish and maintain effective compliance frameworks.

Enhance reporting practices to ensure accuracy, transparency, and compliance with regulations using technology.

Develop strategies to engage stakeholders and effectively communicate with shareholders.

Stay updated on emerging trends, regulatory updates, and industry-specific compliance challenges.

Analyse case studies and engage in interactive discussions to apply knowledge to real-world scenarios.
Don't miss this opportunity to lead the way in the digital revolution of corporate governance!
Date – Thursday, August 3rd,2023.
Time –  10:00 Am
Venue – Virtual
Training Fee: 100,000