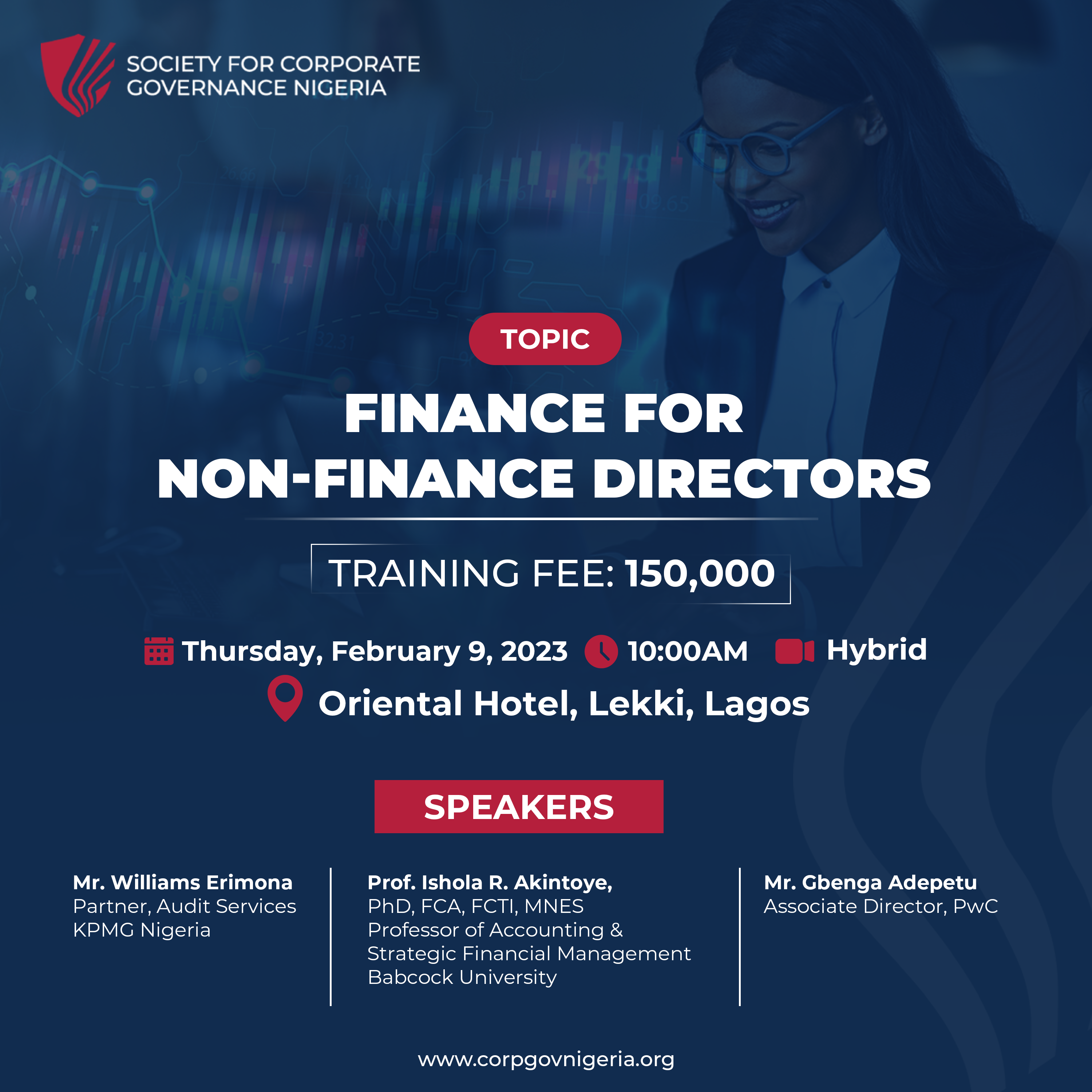 Finance for Non-Financial Directors
564
564 people viewed this event.
It is now common practice for non-financial directors to leave the maintenance, preparation and review of the filing processes of financial reports to their financial directors, this shouldn't be the case. It is worthy to note that it is the fiducial duty of directors to ensure that appropriate accounting records are maintained, prepared and submitted, this responsibility cannot be delegated to Finance Directors only as all directors will be jointly held liable.
In order to enlighten Directors, the Society for Corporate Governance has put together a training on Finance for Finance Directors. This training will broaden the understanding of basic accounting and financial concepts and ability to assimilate the financial information of an organization, thus, equipping participants with a roadmap and framework on how financial professional makes decisions.
Who To Attend?
Board Members
Senior Managers & Executives
Principal Partners & those aspiring to a board role
To book a seat for this training please use the registration button or contact our Programmes team Pamela on +234 905 289 5127 pabasilim@corpgovnigeria.com
Discount Categories(only one category applies):
Group discount: 10% (3 or more nominations from the same organization)
Member's discount: 20% (SCGN financial members only)
Payment Details:
Account Name: Society for Corporate Governance Nigeria
Account Number: 2020369741
Bank: First Bank Nigeria Ltd
Course Benefits
By attending this training, you will be equipped with the knowledge and skills necessary to assess the financial health of your business, understand the relationship between financial and corporate strategies, the concept of financial risk, and the importance of risk assessment and management.
This training will give you an understanding of key financial concepts and terminology, as well as the skills and knowledge required to evaluate business plans with confidence, question financial information and contribute more effectively to boardroom decision-making.
Training Outline
Participants will gain the knowledge and skills to:
• Assess the roles and responsibilities of directors with respect to finance, and the nexus between finance and corporate strategies.
• Understanding financial statements and business decisions and how it affects business performance.
• Explain how to use financial ratios, and interpret accounts in order to assess the financial health of an organization • Outline ways of ensuring that management reporting is effective in enabling the organization's strategy to be achieved
• Understand the key factors to consider in relation to funding requirements and possible funding options.
• Training Price NGN150,000
NOTE: This training includes a certificate, recording and resources for learning consolidation and revision to be made available to all participants.