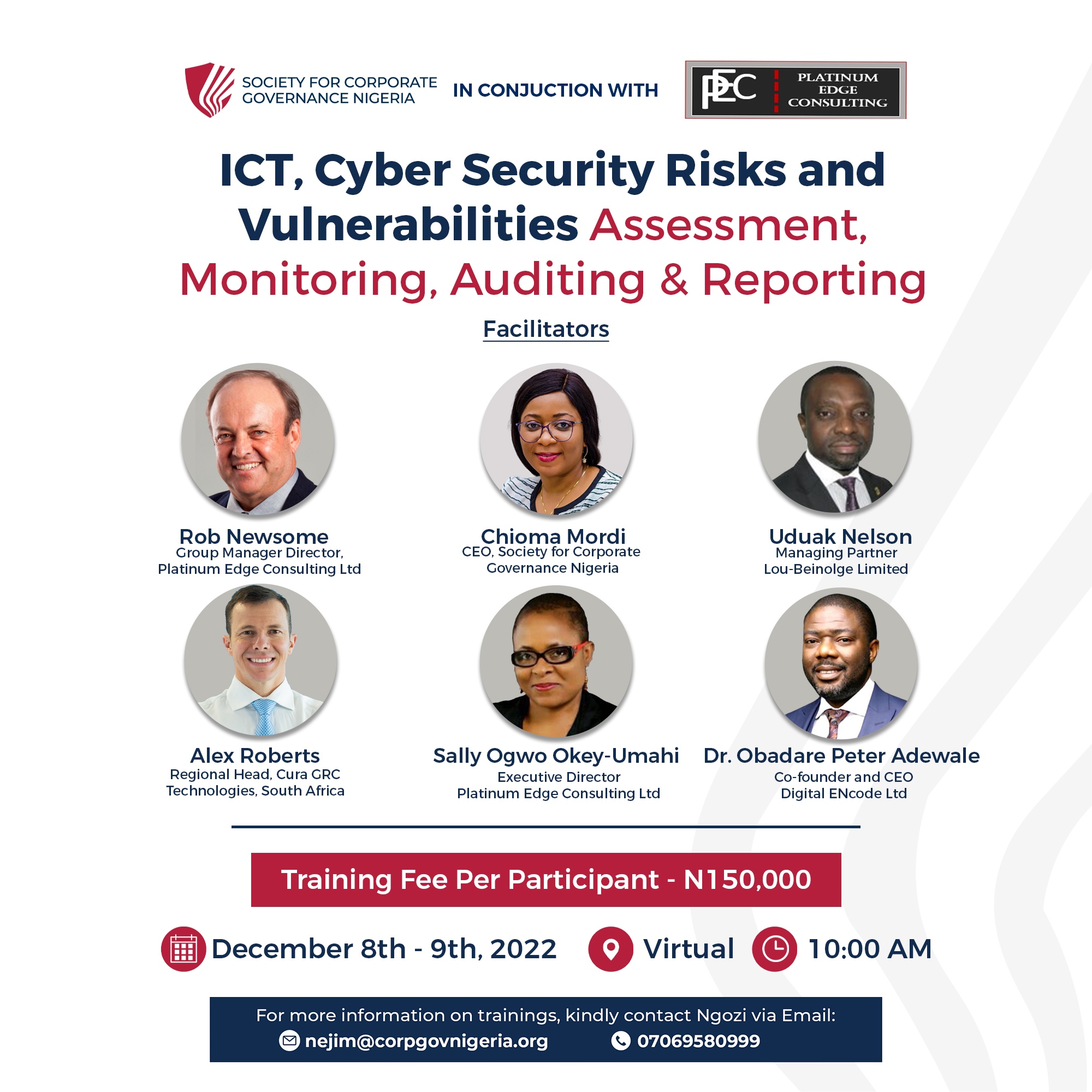 ICT, Cyber security Risks & Vulnerabilities Assessment, Monitoring, Auditing & Reporting
543
543 people viewed this event.
Digital technology is the way to go now and in the future for organisations that want to survive and succeed because of its enormous benefits. Sadly, there are many associated risks with the usage that, if not well understood and properly managed, will significantly undermine the benefits, safety and security of the stored information assets and personal privacy. Since the COVID-19 events, many of the known risks have crystalized while new ones have continued to emerge . The situation has been made worse by the current global economic hardship.
The above developments have increased the pressure and demands from business leaders for high assurance comfort to help them strengthen their confidence and trust that their companies are sufficiently protected from the digital risk exposures and the derivable values and benefits are maximised.
If your organisation has implemented, is currently implementing, or is planning to acquire digital technology systems, whether the systems are running in the cloud or stand alone, and the permitted access is via phones, laptops, or desktop computers, risk exposures must be effectively managed and quality assurance provided.
This training has been designed to help the participants acquire the right knowledge, skills, and experience to deal with digital risk exposures. On completion of this training, participants will;
understand emerging global digital trends, the implications to business and individuals
understand international and local laws and regulations governing ICT acquisition and usage in Nigeria
Understand the usage of cyber security management tools, etc.
Facilitators
Rob Newsome – Group Managing Director, Platinum Edge Consulting Limited
Chioma Mordi – CEO, Society for Corporate Governance Nigeria
Uduak Nelson – Managing Partner, Lou-Beinolge Limited
Alex Roberts – Regional Head, Cura GRC Technologies, South Africa
Sally Ogwo Okey Umahi – Executive Director, Platinum Edge Consulting Limited
Dr. Obadare Peter Adewale – Co-founder and CEO of Digital ENcode Limited
Date – December 8th and 9th, 2022
Venue – Virtual (Zoom)
Time – 10 AM
Training Fee Per Participant – N150,000
This training is powered by The Society for Corporate Governance Nigeria and Platinum Edge Consulting Limited