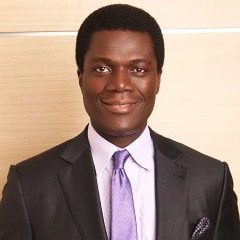 Mr. Olufemi Lijadu
Keynote Speaker
Mr. Lijadu is Chairman, Securities and Exchange Commission, Nigeria. He is also a founding partner in Ukiri Lijadu Barristers & Solicitors and heads the banking and finance practice.
He is a leading commercial lawyer with over thirty years' experience and has served as Company Secretary and Legal Adviser, and as an Executive Director of one of Nigeria's top financial institutions, United Bank for Africa Plc (UBA). He also served as a non-executive director of UBA Trustees and First Security Discount House. Between 2011 and 2016, he was a partner at Ajumogobia & Okeke. During his time at the law firm, his areas of specialization were banking & finance, foreign investment,  company & commercial law. During his time with Udo Udoma & Belo-Osagie, he was part of the team that formulated the legal and business strategy for the $4 billion Liquefied Natural Gas (LNG) project in Nigeria.
Femi Lijadu was a member of the Presidential Committee on the Recovery of Stolen Assets and the Nigerian Bar Association Committee on the WTO. He is currently a Sloan Fellow of London Business School, and a Fellow and Director of the Aspen Leadership Global Network (West Africa). Most recently he was appointed as Legal Adviser to the Presidential Steering Committee on the Implementation of the PIA.  He regularly speaks on and has written several articles on the globalization of legal services and local content development in Nigeria's Oil & Gas sector. He is also a prominent art collector and advisory board member of Art X, Lagos.
        He has various publications to his name, some of which include.

        Embracing the Globalization of Legal Services

        Local Content Development in Nigeria's Upstream Petroleum Industry: The

        Challenges & Opportunities

        The Globalization of Legal Services: Who's afraid of the Big Bad Wolf