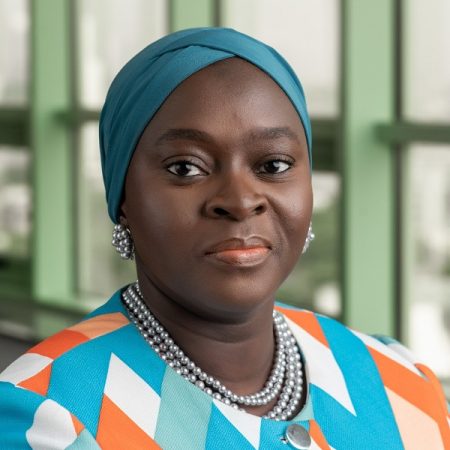 Mrs. Bimpe Afolabi
Partner, IA & GRCS KPMG
Bimpe Afolabi is a Partner, Internal Audit, Governance, Risk and Compliance Services, KPMG in Nigeria with over 22 years of professional experience.
She has provided multidisciplinary advisory services on accounting, corporate finance, governance and risk management issues, while leveraging a network of people and knowledge resources, to ensure that the advice she provides presents a depth of understanding and solutions to clients. Bimpe has worked with several multinational and local enterprises including start-up Nigerian operations, during her career. She has served as the Engagement Partner on several board appraisal engagements and led various teams that advised on the tax, corporate governance, compliance and regulatory matters for companies in the Energy, Financial, Manufacturing and Telecommunications sectors.
Before joining the IA & GRC Services, she was Head of the Quality and Risk Management (Q&RM) unit KPMG for over a decade and was responsible for the firm's Risk Management, Ethics and Independence policies, processes and protocols.
Prior to November 2006, Bimpe acted as a Tax and Regulatory consultant and was member of the Tax, Regulatory and People Services division where she excelled as a high performer, having proffered tax compliance solutions and advice to several clients.
Her illustrative experience includes the following:
⦁ Bimpe has led KPMG's Compliance unit which doubled as the internal audit and risk management function.
⦁ She has since led several Governance type engagements including Board Appraisals, Quality Assurance Reviews, some Internal Audit and Data Enabled Internal Audit engagements
⦁ She is the first reviewer from Africa to be elected as a global reviewer for KPMG International's Global Compliance Reviews. She is well known and recognised as an outstanding Q&RM professional within the global Q&RM community.
⦁ Bimpe has contributed to the consistent top/highest rating received by the firm over a period of 14+ years on compliance levels, as a result of good coordination of Quality and Risk Management procedures.
⦁ She has received outstanding performance evaluations for quality delivery of duties which includes the successful completion of an investigation which involved the fraudulent activity and questionable ethical conduct of a personnel. Documented recommendations at both the international and local levels was awarded, in recognition for her efforts on this international hotline investigation which had multiple country connections.
She had and still continuously provide board level compliance advice through participation on several internal committees since 2011 at the firm-wide level. She has acted as the firm's Company Secretary, participated actively as part of the Corporate Social Responsibility (CSR) group (had represented the Nigerian firm at the KPMG Global Citizenship Conference in India and is also a member of the KPMG Network of Women (K-NOW) Steering Committee