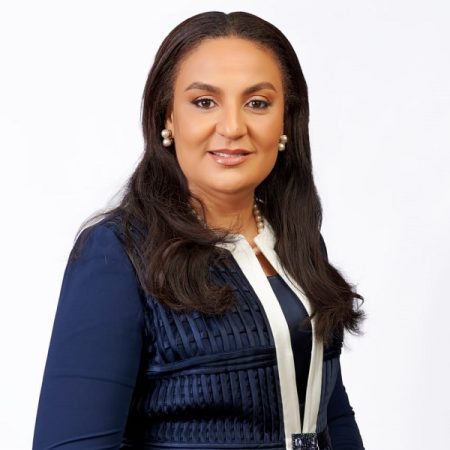 Mrs. Clare Omatseye
Managing Director/CEO, JNC International Ltd
Clare Omatseye FWACS, FPSN, FNAPharm Clare Omatseye is the Founder/Managing Director of JNC International, a 19-year-old Turnkey Medical Equipment Solutions company, which exclusively represents 28 Global Original Medical Equipment Manufacturers (OEM's) like Canon Medical and Olympus – Japan, ElektaSweden, and Medtronic -USA; and the Chairman/Founder of Vaccipharm Limited, a 23-yearold cold chain Vaccine, Pharma & Medical consumable wholesale distribution company. She has a B. Pharm from Ahmadu Bello University, Zaria and an MBA from IESE Business School, Barcelona. She has attended several executive courses at the Harvard Business School, Yale University, INSEAD France, IESE Spain and the prestigious Lagos Business School (LBS).
Clare is an innovative and visionary leader who brings her extensive practical and boardroom experience in Healthcare Visioning, Hospital and Medical Device Planning, Innovation & Disruptive Technology adoption, Corporate Direction setting, pharmaceutical value chain strengthening, Development & SME Financing, Women & Youth empowerment to bear in all she does. She is an avid advocate for Healthcare Reform and has played a major role in influencing Public Health policies bringing her vast over 32 years of seasoned experience in access to quality healthcare, health system strengthening, drug security and transparent public procurement. She is at the forefront of influencing policies that unlock the potential of the private health sector investments and advocates for strategic win-win public-private dialogue and PPPs in Nigeria and Africa as a whole, making her a sought-after Regional and International speaker. Clare is the President West African Private Healthcare Federation/(Federation Ouest Africaine du Secteur Prive de la Sante -FOASPS) with HQ in Dakar Senegal, the Vice President of the African Healthcare Federation (AHF) with HQ in Nairobi, Kenya, the immediate past and Pioneer President of the Healthcare Federation of Nigeria (HFN) where she served for 6.5 years and the Immediate Past President of the prestigious Lagos Business School Alumni Association (LBSAA).
She is an Honorary Fellow of the West African College of Surgeons (FWACS), and the only pharmacist to receive this honour, a Fellow of the Pharmaceutical Society of Nigeria (PSN), a Fellow of the Nigeria Academy of Pharmacy (FNAPharm), a Senior Fellow of the Nigerian Leadership Academy (NLI) and a Fellow of the Society for Corporate Governance Nigeria (SCGN) and Fellow of Aspen's African Leadership Initiative West Africa (ALIWA).
She sits on the Board of several reputable organizations as an Independent Director of the renowned Development Bank of Nigeria Plc (DBN), Beta Glass Nig Plc, and is a Member of the Governing Council of Pan Atlantic University (PAU); and two large NGO's, where she is the Chairman of Board of LEAP Africa (Youth Leadership Development) and a Director of Aspire Coronation (ACT) Foundation (of Access Bank Plc which gives grants to other Health, Leadership, Environment & Entrepreneurship NGO's). Clare is a committed Rotarian and triple star Paul Harris Fellow.