SOCIETY FOR CORPORATE GOVERNANCE NIGERIA (SCGN) LTD/GTE – APPOINTMENT OF CHIOMA MORDI AS MANAGING DIRECTOR/CHIEF EXECUTIVE OFFICER (CEO)
The Society for Corporate Governance Nigeria has announced changes on its management team. Speaking at its recent 2020 Annual Corporate Governance Conference, the President Mr. and Board Chairman M. K. Ahmed announced the appointment of Mrs Chioma Mordi as the new Managing Director/ CEO of the Society. Mrs Mordi holds a Bachelor's Degree in Demography and Statistics from Obafemi Awolowo University, Ile-Ife, a Master of Business Administration (MBA) Degree from the Lagos Business School and has attended different management courses in some of the country's prestigious institutions and IESE Business School, Barcelona.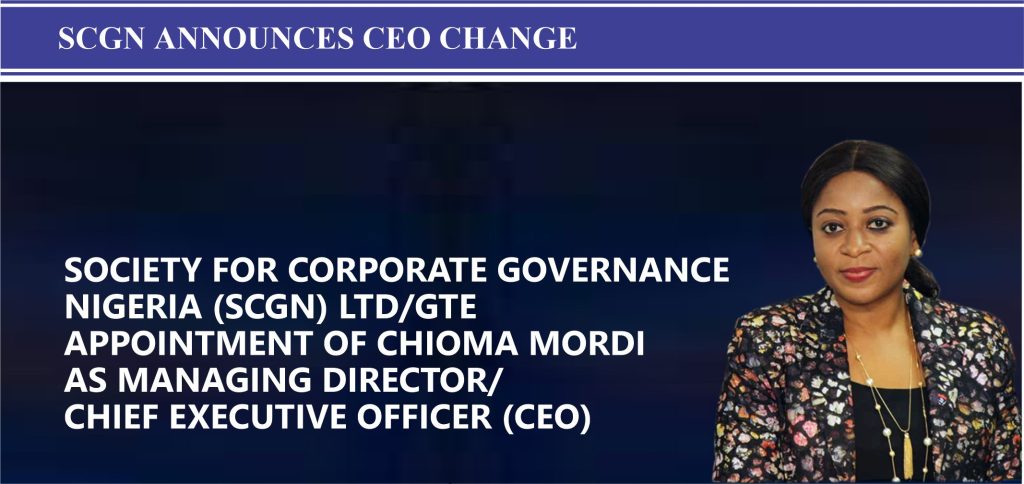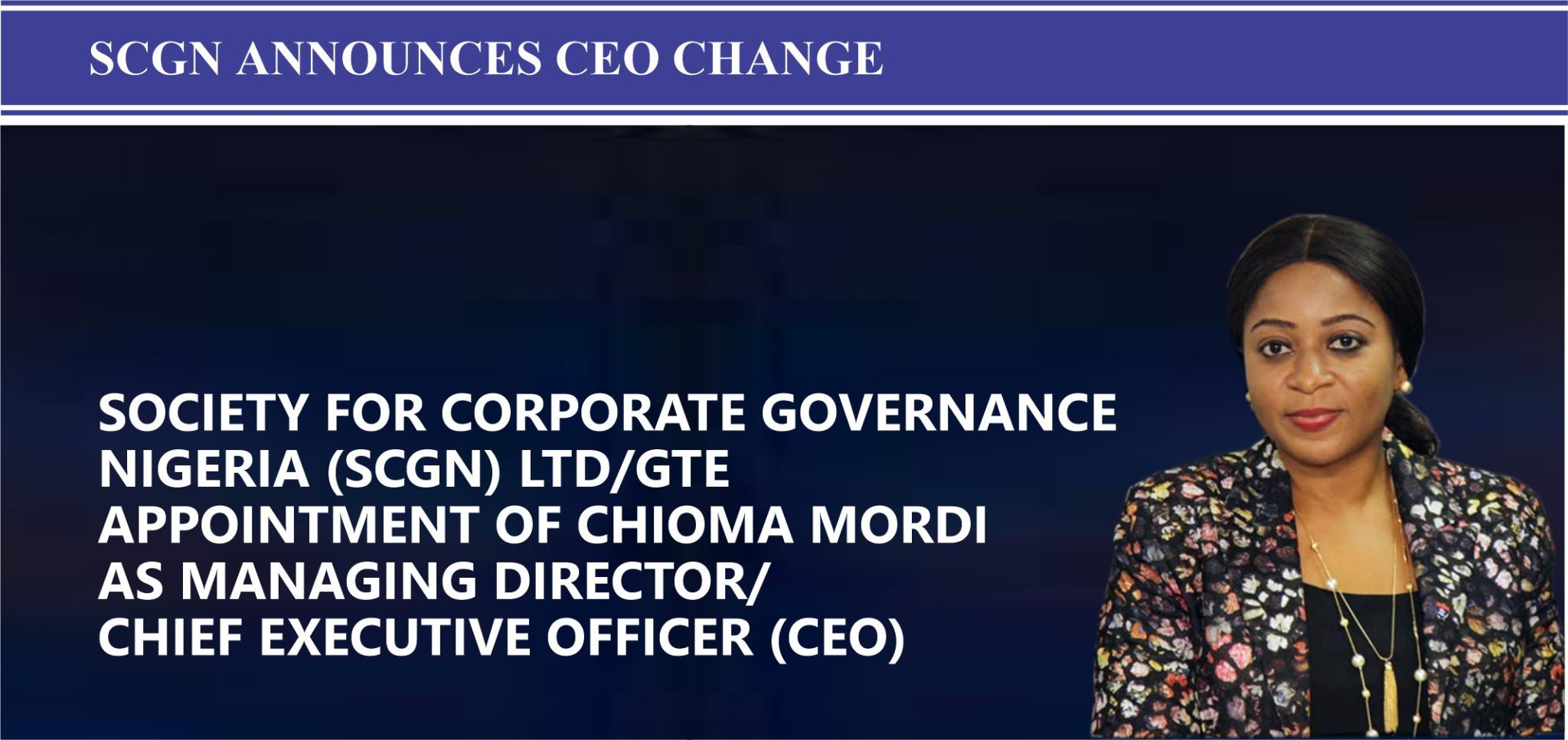 She is also an Associate Member of the Nigerian Institute of Management and a member of Women in Management and Business (WIMBIZ). She has over ten years of management experience in operations, strategic development & execution, programmes curriculum development, partnership engagement, and research experience with a focus on corporate governance and leadership. Prior to her appointment, Mrs Mordi was the Chief Operating Officer – COO of the Society and provided leadership and strategic direction for its brand management, business development, financial management, human and material resources, knowledge management and operations. As COO, she was primarily responsible for the development of resource materials and had direct oversight of the Society's research and publications and has to her credit the following publications – "Corporate Governance and Regulatory Compliance"; "Understanding Financial Statement & Reports"; Leading an Effective Board: A Guide for the Chairman"; "The Director's Handbook on Corporate Governance (First and Second Editions); Company Secretaries Guide on Corporate Governance (First and Second Edition); Corporate Governance Reporting in Nigeria – a review of the top 30 capitalised companies on the Nigeria Stock Exchange" the Nigerian Observatory on Corporate Governance in publicly quoted companies on the Nigerian Stock Exchange". She is the Editor-in-Chief of Journal of Corporate Governance (a bi-annual publication of the Society for Corporate Governance with 22 editions) and C-Governance Newsletter, a newsletter of the Society. Mrs. Mordi has worked to move the Society to an organisation of substantial national and international reputation through collaborations with key institutions, including the AFOS Foundation for Entrepreneurial Development Co-operation of Germany, Central Bank of Nigeria (CBN), Nigeria Deposit Insurance Corporation (NDIC), Nigerian Stock Exchange (NSE) and other regulatory agencies in different sectors of the economy. In addition, she regularly engages chief executives, chairpersons and directors of blue-chip companies and regulators in various fora including breakfast meetings, seminars and conferences for the promotion of corporate governance in Nigeria. With her contributions and immense work over the years, Mrs. Mordi is placed to lead the Society with great energy and focus in repositioning corporate governance processes in these unique and interesting times. The Board expressed its gratitude to the outgoing CEO, Mrs Hilda Nkor, for her contributions to Society.

For: KP NOMINEES LTD