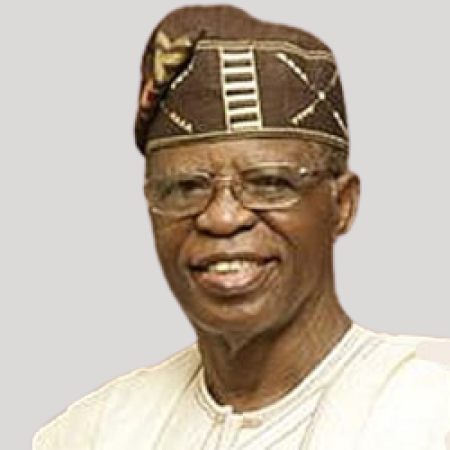 Chief (Dr) Joseph Sanusi, CON
Fellow
Chief (Dr.) Joseph Oladele Sanusi (born 24 September 1938) is a Nigerian chartered accountant who was Governor of the Central Bank of Nigeria from May 1999 to May 2004.
He studied at South West London College and Kingston College of Technology, England from 1962 to 1965, qualifying as a Chartered Accountant. He became a member of the Institute of Chartered Accountants of Nigeria (ICAN) in 1969, and became a fellow of the Nigerian Institute of Bankers in 1987.
In May 1999 Sanusi was appointed Governor of the Central Bank of Nigeria by President Olusegun Obasanjo, serving until May 2004. Sanusi was picked as a safe and conservative banker. He quickly introduced foreign exchange controls in an effort to reduce the drain on foreign reserves which had fallen from over $7 billion to under $4 billion at that time, and to defend the Nigerian naira.
In 2002, Sanusi was awarded the rank of Commander of the Order of the Niger (CON). In May 2004, Sanusi voluntarily retired and handed over to Charles Chukwuma Soludo.
On 7 October 2004 he was appointed to the board of directors of Lafarge Cement Wapco, a cement manufacturing company in Nigeria owned by Lafarge of Paris.[12] Other post-CBN appointments include Chairman of Standard Chartered Bank Nigeria, First Pension Funds Custodian, Santrust Securities, STI Consulting and Global Biofuels, and Director of West African Portland Cement and Marina Foods.