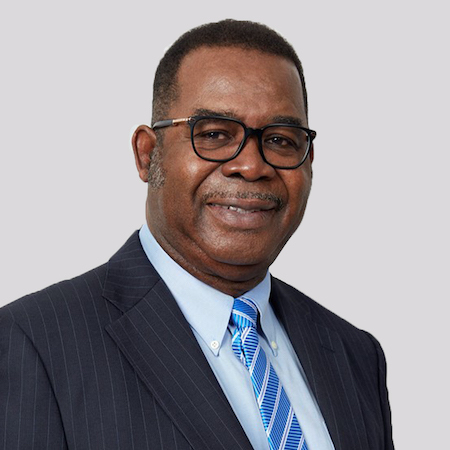 Mr Basil Efoise Omiyi, CON
Fellow
Basil Efoise Omiyi is currently Chairman of Stanbic IBTC Holding Plc, Seplat Energy Plc and Chairman of TAF Nigeria Homes Ltd.
Basil Omiyi spent most of his career years at the Royal Dutch Shell Group where he held various technical leadership roles in Nigeria as well as in the UK and the Netherlands. On return to Nigeria in 1992, Mr Omiyi held many leadership roles as Production Manager, Director of External Relations and Environment and later Country Production Director. As Country Production Director, Mr Omiyi managed installed production capacity of over 1.4 million barrels per day oil and circa 2 billion standard cubic feet per day of gas from about 100 plants across the Niger Delta. He was subsequently appointment the Managing Director of The Shell Petroleum Development Company of Nigeria Ltd in 2004 thus becaming the first indigenous Managing Director of an International Oil Company in Nigeria and later in addition, became the Chairman of Royal Dutch Shell Companies in Nigeria until he retirement in 2009.
Mr Omiyi has held several Oil and Gas leadership positions in his esteemed career including  Chairman, Upstream Industry Group-OPTS (Oil Producers Trade Section, Lagos Chambers of Commerce & Industry)  2007-2010. Chairman of the Energy Sector of NEPAD Business Group, Nigeria, and Board Member NEPAD Business Group, Nigeria 2005-2010, Chairman, of the Oil & Gas Commission of the Nigerian Economic  Summit Group( NESG) 2005-2010, Board Member, Nigerian Extractive Industry Transparency Initiative- NEITI, 2007-2010, Chairman; Shell Closed Pension Fund Administrator Limited , 2004-2010and President Nigeria-Netherlands Chamber of Commerce, 2008-2010.
He a is Fellow of many professional bodies, including The Petroleum Institute, UK, FEI, The Nigerian Mining and Geoscience Society, FNMGS, The Nigeran Association of Petroleum Explorationist, FNAPE, and The Chartered Institute of Arbitrators of Nigeria, FCIArb.  Mr Omiyi was awarded with National Honour of Commander of the Order of the Niger, CON in 2011 in recognition of his pioneering role in Oil and Gas Industry leadership in Nigeria.
Mr Basil Omiyi studied the University of Ibadan from 1965 to 1970 where he obtained a Bachelor of Science degree in Chemistry in 1969 and a Post-graduate Diploma in Petroleum Technology in 1970 after which he joined the then Shell-BP Petroleum Ltd  in 1970 as a Wellsite Petroleum Engineer.