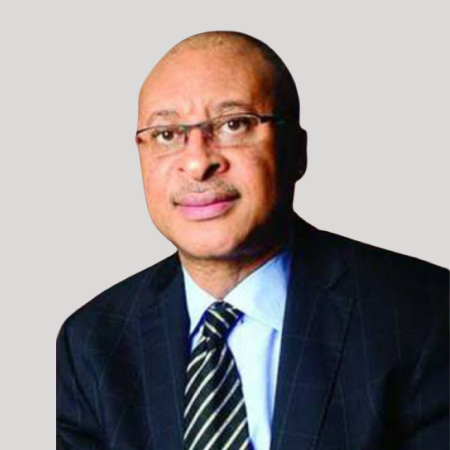 Prof. Pat Utomi
Board Member
Pat Utomi is a Fellow of the Institute of Management Consultants of Nigeria and the founding Senior Faculty of the Lagos Business School -Pan Atlantic University. He was Director of the Centre for Applied Economics at the Lagos Business School. He has been a scholar-in-residence at Harvard Business School and American University in Washington, DC, and has been appointed Professor of the Social and Political Economy Environment of Business and Entrepreneurship Teacher.
He has served in senior positions; in government as an Adviser to the President of Nigeria for the Private Sector, as Chief Operating Officer for Volkswagen of Nigeria, and in academia. He is the author of several management and public policy books, including the award-winning Managing Uncertainty: Competition and Strategy in Emerging Economies, 1998, and the 2006 book Why Nations are Poor. His academic background covers a range from policy economics, business administration, and political science to mass communication.
As an entrepreneur, he has founded and co-founded companies that are active in fields, including financial services, ICT, and media. In the 2007 general elections, he ran as an ADC candidate for the office of President of the Federal Republic of Nigeria, and he led the shadow cabinet of a rainbow coalition of political parties.
As a leader of civil society, he is the founder of the Centre for Values in Leadership; and the Concerned Professionals, which was a bulwark against military oppression, among numerous other social enterprise initiatives.
He has served on the key apex private sector associations, including the Lagos Chamber of Commerce, the National Council of the Manufacturers' Association of Nigeria, and the Nigerian Employers' Consultative Assembly (NECA). He is an active global speaker, especially on the subjects: High Growth Economics, comparative development economics, leadership, the curse of oil, and China's economic surge and growing influence in Africa.
He has frequently collaborated with the Center for Strategic and International Studies in Washington and Chatham House in the UK. He has also written commissioned papers for the UK's DFID, including the latest collaboration with colleagues from Oxford on the Political Economy of Growth in Nigeria, (2006). He has studied and written about the political economy of growth in Latin America and Asia, particularly Brazil, Indonesia, Malaysia, Singapore, India, and Hong Kong – countries in which he has travelled extensively.